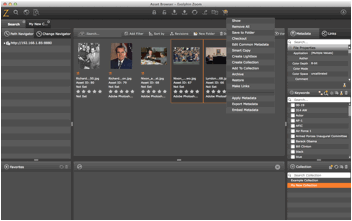 The Cart in Zoom is a useful tool for collecting assets to perform a bulk operation. For example, with Cart you can do the following to multiple assets:

| Action | Description |
| --- | --- |
| Save to Folder | Saves assets in the cart to a folder specified on your desktop computer. |
| Checkout | Assets in the cart will be checked out as a working copy. |
| Edit Common Metadata | Edits the metadata of all the assets simultaneously. |
| Smart Copy | Creates smart copies of Zoom to a specified directory. |
| Create Lightbox | Creates a lightbox to share with users. |
| Create Collection | Creates a new collection based on assets in Zoom. |
| Add to Collection | Adds all assets in the cart to a specified collection. |
| Archive | Archives assets in cart (requires Archive module). |
| Make Links | Creates a relation between two assets. |
| Embed Metadata | Embeds the metadata into XMP (requires checkout of assets) |
| Export Metadata | Allows metadata to be exported as CSV, TAB, or XML |
Adding Items to Cart
Select

an item in

Asset Browser

.
Under the thumbnail for the image,

click

the

Cart

button.

Once you have clicked the icon, you can see items are in the cart when you see the
Full Cart icon. Items can also be added to the cart by drag-and-dropping files onto the

Cart icon.