Links in Zoom are relations of files as a one-to-many relationship. The link can be used to indicate to a user which files a file corresponds to. For example, an Adobe InDesign document may contain many images within it. Each of these images are links and this relationship can also be seen inside of Zoom.
An important thing to understand with links is that a file can have Links to and Links From. In the instance of an InDesign file, the Links to items are the images. The items that they link from is the InDesign document.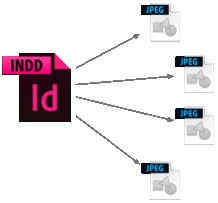 Zoom has automatic integration with application such as Adobe InDesign to read the related links. When Zoom has links related to the selected asset, they show up in the Links panel.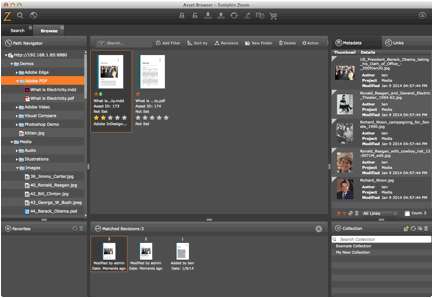 Links can be used with any file-type. For example, it can be used to see the relation between which images or diagrams were used within a Microsoft Office document. It could be used to show which movie files were used within an Adobe Premiere project. It could be used to show which assets were using in an After Effects project.
The link between assets can be created manually within Zoom for assets that do not support automatic link detection.
Add Files to Link to an Asset
In Zoom, you can link directly to assets in Zoom when using applications such as Adobe InDesign, Adobe After Effects, or Adobe Premiere Pro.
While your document is open in your preferred application,

open

Asset Browser

.

Select

the asset you would like to link to in Zoom.

Click

the

Checkout

button to checkout the asset.

Drag-and-drop

the asset from

Asset Browser

to your application.

Go to

File > Save

in your Creative App.

Checkin

the file to Zoom using the Creative App Panel in the Creative App.
When your document is selected in Asset Browser, the Links panel in Asset Browser you will see the assets that are linked to that file. To navigate to the asset, select an asset in the Links panel and click the
Visit Parent Asset button.
Creating Links Between Files Manually
Select

the items you want to link to and place and add them to the

Cart

.

Image01.jpg, Image02.jpg, etc.

Navigate to the item you want to link the items to.

InDesignFile.indd, PremiereFile.prproj, AfterEffectsFile.aep

Click

the  

Cart

icon.

Select

Make Links

.

Click

Create Links

.

Click

the  

Refresh

button.
If you now select any of the assets, you will see the corresponding link.